PE and Sport Premium at Blennerhasset School

We have been working closely with our local secondary school, Beacon Hill Community School, and their specialist PE teacher, Mr Adam Young. This collaboration has involved:
Planning Support – Mr Young has worked alongside both the subject leader and school staff to develop high standards of quality planning.
Lesson Observations

– Staff have had the opportunity to collaborate for lesson observations. This has involved the joint planning of lessons being taught by the member of staff and then by A. Young or vice versa. Following the lesson, feedback was shared and targets were agreed.
Curriculum Planning

– A. Young has supported our subject leader in developing a broad but balanced LTP for across the school.
Specialist Lessons

– A. Young has also delivered specialist sessions for the children.
Resources / Transport

– the link with Beacon Hill School also gives us access to a Gym, AstroTurf Pitches, Football Pitches and Tennis Courts. Transport to use these resources via the Beacon Hill School minibus.
Competition Coaching – A. Young supports the subject leader in the delivery of in-school and after-school training sessions prior to sports competitions and festivals.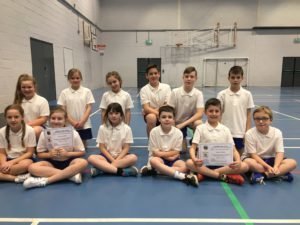 The next stage of this partnership in 2018-19 was for Blennerhasset School staff to take PE forward independently.
This collaboration involved the development of a Young Sports Leader Programme involving the real-life skills of, completing a job application, interview process and training before leading sports competitions for local cluster schools.
Mrs. Davies supported Mr. Young in the organising of cluster sports competitions to ensure that staff felt enabled to run these events independently going forward.
Mrs. Davies also deepened and updated her own subject knowledge and skills with the support of Mr. Young so that she was self-sufficient in supporting school staff with delivering high-quality physical education.
We are part of the 'Allerdale Schools Sports Partnership'.
Through this programme, we receive a variety of sports coaches – Multi-Skills, Kinder Cricket, Kwik Cricket and Tennis – into school at various times throughout the year. These coaches provide sessions for children from Years 1 – 6.
The next stage of our development within the use of specialist coaches is to widen the skill set currently offered. We are in the process of approaching new coaches who offer new experiences for the children and although those plans were hindered by the pandemic, we have a wide range of sporting events and activities for our children to enjoy.
Swimming Lessons
All children in school from Reception to Year 6 are involved in swimming lessons during the Spring Term.
The children in Reception, Year 1 and Year 2 in Year 3, Year 4, Year 5 and Year 6 visit the local 'Better' swimming school for one week of intensive swimming in Spring 1.
The children leave us in Year 6 with very high levels of swimming achievement including valuable lifesaving skills.
In the academic year 2021-22 all children in Y6 (100%) met the standard for swimming at the end of KS2.
In the academic year 2022-23 we expect 89% of children in Y6 to meet the standard expected for swimming at the end of KS2
The cost for swimming including transport is £60 per child, per year. (Figures correct as of Jan 23)
Sports Equipment
Recently, we have upgraded our sports equipment and PE storage facilities. Our entire range of equipment is of a high standard and is suitable for children's development in sport across the entire school age range. Our subject leader replaces equipment as and when required.
This will continue to be an area that will be monitored.
We also link with our local cluster schools which form the 'Aspatria Small Schools Partnership'.
This allows us to make inter-school links directly and arrange additional events for the children. These events are organised for a variety of age ranges from across the school and allow our children to work with different children from other small schools.
Sainsbury's School Games
We are registered with the 'Sainsbury's School Games' website and this platform allows us to share our sporting calendar, register our School Games Day and currently we are working towards achieving the School Games Awards.